Tributes to Kim Bieber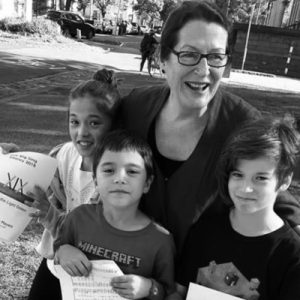 An Interview between Moshe Lang and Kim Bieber,  recorded 16 May 2020:
---
Moshe Lang:
On the 16th May 2020, I the broke the COVID-19 rule with a woman who didn't know her own rules, and encouraged me to disregard the coronavirus – we hugged.
A number of weeks prior to Kim's passing on the 5 June 2020, she had told me that she was expecting to die on the 18th May.  On the 16th May, Kim agreed to an interview.
I anticipated writing an obituary for her and now I'm not so sure because maybe her words are much superior.
Kim is best speaking for herself about herself and in her own voice.  She had courage to be herself and to know her place.
She knew how to challenge us all to learn from life, not from books. Kim was there with love, care, commitment and advocacy.
I for one am grateful to Kim as my student, colleague, friend and above all as an inspiration, an example of how we can live and die.
Gloria Lew:
In late May this year I received a recording of a dialogue between Kim Bieber and Moshe Lang. Kim worked as a psychiatric nurse and family therapist and Moshe worked as a clinical psychologist and family therapist. They both excelled in their fields. (Moshe still does)
Kim was aware that she was dying and Moshe, who had known her for a very long time, was exploring and allowing her to acknowledge the history of her professional life.
It took me a few days to muster up the courage to listen……..
Kim was someone who had always impressed me – in many different roles that she had in my life – as a positive, wise, considerate and above all, kind person. We hadn't crossed paths for a while and I was upset to hear that she was so close to passing.
As I listened to her story I was struck by her passionate sense of both justice and rebelliousness – she did what she thought was right for her clients – no matter the cost or consequence to herself! She was incredibly courageous and principled.
Moshe asked questions delicately and with purpose to identify the elements of her career that had distinguished her from the crowd – she was truly pure spirit in the field. She had experienced pain and suffering as her clients experienced pain and suffering – she was always in step with them. The information that she gave openly and honestly was interwoven into her personal life with a sensitivity that enabled her, and the listener, to get a picture of who this person was and the contribution she had made to many lives.
It is said that helping just one person on this planet is enough to make your existence worthwhile – Kim had had such an impact on the lives of so many!!
After listening to this mp.4 rather than being overwhelmed by grief at the loss of this person – I felt humbled and privileged to have known her. It was an experience in both skilful questioning and interviewing as well as a learning experience about the most kind, loving and wise way to treat other human beings.
Gloria
From A Patient of Kim:
Listening to this audio moved me on so many levels. Where do I even start?!
Perhaps I will begin with what struck me most – Kim's strength. The stories shared on this recording grew my admiration for this woman. What an awesome lady. Always fighting for the underdog. Constantly pointing out injustices. I got the sense from listening that she almost felt it was her duty to support those who could not help themselves. She seemed to embrace this way of life, rather than view it as a burden or heavy responsibility. The connections she had with those she helped and the outcomes whether positive or negative enriched her life and made it worthwhile. Her life had purpose.
Indeed, her life had purpose for me too. The recording has changed me and made me look at things differently. It has encouraged me to see my life with gratitude, rather than in a critical manner. When you hear of all the suffering and injustices she mentions, you cannot help but question how you can be unhappy with your own lot. The mere fact that she dies also makes you question your own life. Although his woman gave her energy to all and was surrounded by a loving family and so many people that admired and respected her, she was still struck down by cancer and the injustices of life. Her story and stories have really made me rethink my priorities and are encouraging me to ask myself what is my purpose in life.
Indeed, she calls into question everyone's purpose and suggests that if we were to put the concept of humanity as our number one priority, then most world problems would be solved. I have been processing this concept for a while and tend to agree. A more outward approach rather than inward, would certainly change most of our mindsets. Being aware of others and more empathetic and caring of those in need in our community would definitely give our own lives more purpose, but of course help to make the world a more positive place.
The power of the type of upbringing a child has also became apparent to me while listening to this recording. She grew up in a family where social justice was at the forefront of what she saw. Clearly her father had a huge role in changing other people's lives and seeing the good in them. The power of words that children hear at a young age was also raised. Her father was told he would amount to nothing when he was young and then in a sense believed it. It made me think how careful I need to be with what I say to my own children and the children I teach. Not only that, it told me that we should teach our children and indeed ourselves to question how other people see us and not necessarily believe that their view of us is correct.
The approach she took too of seeing people as multi-faceted is also so important and reaffirming for me. Often, we tend to judge people on one single action, yet really that is just one moment in time. One story so to speak. We should learn to be forgiving and recognise that people have good and bad days. Everyone has their ups and downs. We need to search to see the good in everyone and not solely define them by one of their traits, as we are clearly an amalgamation of many stories. Perhaps it is simply that a particular character trait has not had enough opportunity to flourish and that is what we need to nurture.
I am so grateful for having the opportunity to listen to this recording. I am grateful to Kim for having spoken in such an honest way. Her thoughts and values are so clear. It is impossible to not be moved by the strength and convictions of this woman. Your stories have changed me Kim and I believe have and will continue to give value to my life for many years to come. You live on in me and through my children as I share with them your wisdom and values. Thank you so much Kim!