Resilience:
Stories of a Family Therapist
Moshe & Tesse Lang
Reed Books, Australia, 1996.
Foreword: Geraldine Doogue
________________
Resilience:
Timeless Stories of a Family Therapist
(revised edition)
Moshe & Tesse Lang
PsychOz Publications, Australia, 2007.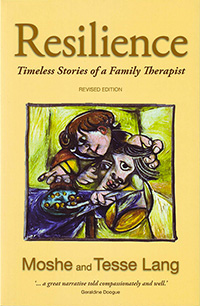 Foreword: Geraldine Doogue
________________
Moshe Lang presents us with a book of nuance and flavour. Resilience is a collection of brief sketches and vignettes, each serving as a vehicle for pithy observations and cogent insights.
Resilience, co-authored with his wife, Tesse, is a collection of fifty-two stories by a master family therapist who continues to grow and change. An accessible immensely readable and insightful collection which includes therapy with couples, children, families and Holocaust survivors.
Readers will find this an absorbing collection that reveals how the authors' thinking has expanded and altered over the years.
Available from:
The Human Condition Bookstore, PsychOz Publication. Click here.
Moshe Lang eBook Store. Click here.
Williams Road Psychotherapy Centre. Contact details here.
Translated Edition:
.הצל הארוך: סיפורים מחדרו של פסיכולוג משפחתי.  משה וטס לנג
.מה? דע! סדרה בעריכת מרסלו דסקל.  עברית: קנה מרקס.
1997  .דביר הוצאה לאור
Lang, M. & Lang, T. (1997). Hatzel Ha'aroch: Sippurim Mechadro shel Psicholog Mishpachti. ('The Long Shadow: Stories from the Room of a Family Psychotherapist') (hebrew ed. of Resilience, 1996.). (R. Marks, Trans.). Tel Aviv, Israel: Dvir.
Reviews of Resilience:
To view a listing of full reviews for Resilience, click here.
________________
'…  a truly remarkable book, beautifully crafted, compassionate, informative, enlightening  …  filled with gems.'   ~ Australian and New Zealand Journal of Psychology.
 'The unfinished, haunting quality of these stories makes the collection engaging and memorable.'   ~ Australian Book Review.
'The extraordinary resilience of people and families shines through these stories … Inspiring to both therapists and the general reader.'   ~ The Australian and New Zealand Journal of Family Therapy.
'I have called Moshe Lang the Isaac Bashevis Singer of Family Therapy.  His writing is like a stream that you wonder if you are even looking through water.  And he is a clinician's clinician, without a self advertising theory, he thinks with his work … Moshe says: 'Silence, like talking, is interactive.' In this book, it is not just silence, but Moshe's way of talking about silence, which is interactive.'   ~ Lyn Hoffman, Generation.
'… a great narrative told compassionately and well.'   ~ Geraldine Doogue.
'… Immensely readable.'   ~ Psychotherapy in Australia.
'… simply written yet highly sophisticated story book about psychotherapy and its practice by a master therapist … Lang's capacity to fully attend to whoever is in his room shines through the text like a beacon of psychotherapy practice … In the face of enormous problems or catastrophic histories, the simplicity of listening and the profound respectfulness of silence become cornerstones of the work … A rich tapestry that, in keeping with storytelling and psychotherapy the world over, distrusts forgetting and champions the resilience of those who remember.'
~ Andrew Relph, Australian Psychologist.
'Every therapist will find delights in Resilience.'   ~ NSW Association of Family Therapy Newsletter.